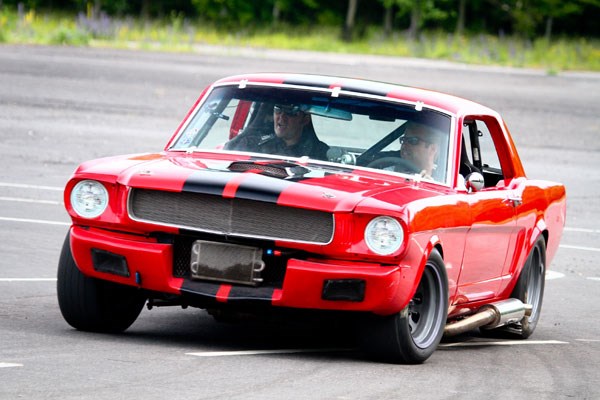 American Classics Driving Experience
10239297
4.5 out of 5 (based on 12 reviews)
14 locations to choose from
For 1 person
Valid for 20 months
Best Price Guarantee
Overview
Get ready for a triple driving thrill like no other – take control of three of America's biggest classic marques and rev up for an unforgettable three miles in each! You'll begin with a driver briefing, because these cars aren't quite like the commuters most are used to – rare, powerful and with exceptional handling, you'll get all the tips and tricks you need to get the most from your experience. Then it's time to get in the driver's seat and set off. Once you've finished with all three, you'll be among the lucky few qualified to say which they think is best and why!
What's included?
A full safety and driver briefing
Three miles around the track in a 1965 Mustang race car
Three miles around the track in a Chevrolet Camaro SS
Three miles around the track in a Corvette race car
You'll have an experienced instructor by your side throughout your experience
What do I need to know?
Drivers must be 17 years or over
Drivers must be 135cm tall or over; maximum height is 208cm
Maximum weight is 20 stone
A license is not required for this experience
You will have the chance to purchase a collision damage waiver on the day for £20; this is not obligatory
Friends and relatives are welcome to spectate
This experience will generally take place on selected Fridays and Saturdays
If your experience is cancelled due to bad weather or unforeseen circumstances, you will be allocated a new date
Food and drink are not included with this experience
All dates are subject to availability. At certain locations, a surcharge may be applicable for weekend bookings
The Southern Track is free at Dunsfold Park but there is a supplement fee of £35 for the Top Gear Track
All dates are subject to availability
Locations
This experience is available at 14 locations
Already got this voucher?
Customer Reviews
4.5 out of 5 (based on 12 reviews)
12 out of 12 (100%) reviewers would recommend this product to a friend.
Birthday and retirement
13 October 2018
Was a brilliant day but on the letter said you get to use the full 2 mile course but was cut down to 1 1/2 miles, and had to change arrangements round as was only available on 2 dates which wasn't written anyway at the time of booking and paying with buy a gift but the day itself was brilliant
Kev
Would you recommend this product to a friend?
Yes
A very mixed experience
06 November 2017
Yet another driving experience where you pay a lot of money & fail to get through the full event without been talked to like a piece of rubbish. My husband & I stopped away in York to be near the event for the early morning start. We woke up to a flat tyre on our car. Panicked we wouldn't get there in time, I tried to contact someone to discuss our options. The booking office wasn't opened on weekends & there was no answer on the mobile number from the order confirmation. I decided to call the venue & spoke to a very snotty woman who at first said she couldn't help. I questioned why they couldn't advice me of anyone to speak to & got a very curt, rude reply. However she then did have a mobile number to give me. It was the same number from before but I called it again & this time left a message explaining our problem & how we had 4 drives booked between us, all of which we had paid to be upgraded & already paid our insurance fees. Thankfully my husband did get the safety wheel on the car in time & we got there for our booking time. I would like to add though that we have never had a call back replying to my distressed message to see if we did even ever get there. The actual driving experience was pretty much the same as the others we have been to, a whole mix of instructors in the cars, some very friendly & some who didn't want to give you the time of day. The whole day is as usual, built around getting as much money out of you as possible. Our love of cars & driving keeps us going to these events but you always leave with a bit of a sting as to how much money you have spent & how the customer service in regards to this really doesn't compare.
Sharon
Would you recommend this product to a friend?
Yes
Good experience
29 April 2016
I drove 3 american cars a camaro, mustang and general lee. the course is good but the track is congested with others which slows you down. the instructors are friendly and do let you put your foot down. The only real bad part is you cant take a camera with you i asked at the start and they said no because they are trying to sell you the photos for £25 a go.
Joner
Would you recommend this product to a friend?
Yes
Brilliant experience and great organisation!!
08 April 2016
My current driving experience was brilliant!!! I am a massive fan of American muscle cars and it really didn't disappoint. They guys that were there were great and very very helpful! One of the cars I had chosen originally was unfortunately out of action so with no trouble at all they let me swap to another car! It was very cold but unfortunately you can't buy the weather especially british weather! I went on a supercars driving experience last year with a different company and even though the driving of the cars was good the organisation was terrible! Overall a great experience this time, would recommend to anybody!
Liam Mould
Would you recommend this product to a friend?
Yes
American Muscle Car EXperience
18 February 2016
Driving three of the most iconic American Muscle Cars. Mustang, Camaro and Corvette.
Andy Townsend
Would you recommend this product to a friend?
Yes
An experience
25 November 2015
I arrived early and was allowed to go in an earlier group,cars were as described big ole V8s, only down side not enough time On the curcuit . not an over big area mainly 2nd gear all the time lots of extras to pay for when you get there so take some money or c,card, cars cool staff excellent directions spot on ,on the whole a very enjoyable afternoon to remember
Ace face
Would you recommend this product to a friend?
Yes
Brilliant experience
16 November 2015
I got this for my husband as a gift as he loves American muscle cars. The cars were really good and most of the instructors allowed you to drive to your ability so you could put your foot down! It was well organised and well worth it.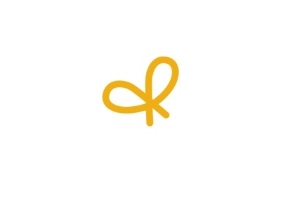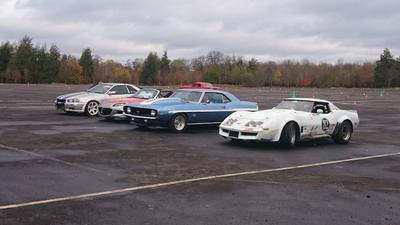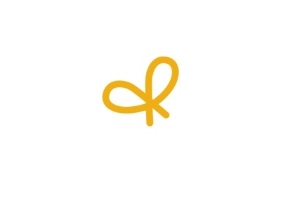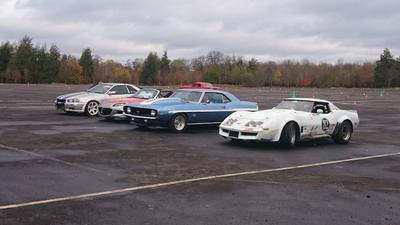 Cazzflay
Would you recommend this product to a friend?
Yes
Fantastic birthday present
02 November 2015
It was just awesome to drive the Corvette, the Mustang and the 69 SS Camaro. I had a Z28 1984 Camaro for 12 years and to feel and experience a V8 again is a treasured memory.
Tartan Ninja
Would you recommend this product to a friend?
Yes
Great gift
01 November 2015
I took three classic American muscle cars for a spin around a circuit created by the team, great fun and a never to forget experience. Very professional event which went by ever so quickly. Could not fault the way they went about their business ensuring everyone, young & old, received their full attention. Lots of "add ons", highly recommend the in car filming, shows just how badly, or well, you handled all that power - 700bhp is no exaggeration with these cars.
Bill Bill
Would you recommend this product to a friend?
Yes
American Classics Driving Experience
01 November 2015
Easy to book, professional registration, briefing and in car instruction. However, not on a real track, just between a few cones and cars kept breaking down. Appreciate they are old, but could have been serviced and checked before presented to public.
Southampton Wolf
Would you recommend this product to a friend?
Yes
American Classics Driving Experience