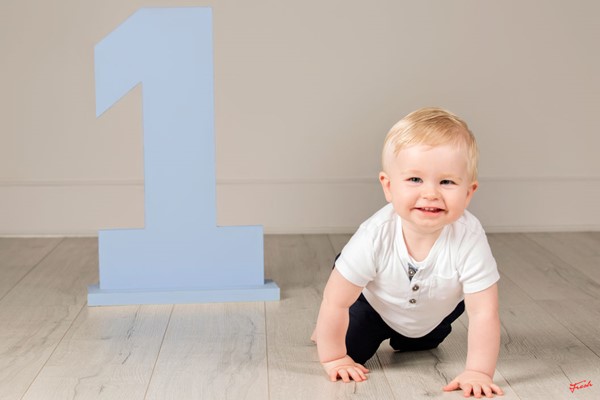 My First Year Photoshoot Package with A £50 off voucher – UK Wide
1053017
3 out of 5 (based on 8 reviews)
69 locations to choose from
For 1 person
Valid for 20 months
Best Price Guarantee
Overview
Little ones grow up so fast! That's why it's important to capture those precious moments during their first year, to help make a lifetime of memories. With this My First Year package, you'll take your baby to three photo sessions spaced out during the first year - typically when he or she is 4, 8, and 12 months old. On arrival at your pre-booked time, baby will have a portrait session with a professional photographer, capturing that cheeky grin at three different stages and documenting the first year of his or her life, in beautiful keepsake images. The whole family can come along to watch if you wish, making it a lovely outing for all! For each of the three sessions, you'll receive a complimentary picture to keep, and you'll have the option to purchase more shots if you wish, with no obligation to do so.
What's included?
Three baby portrait sessions at a participating studio
Three complimentary prints (size 12.7 cm x 17.8 cm / 5" x 7")
A £50 off voucher for albums or wall hangings (Please note this excludes prints)
What do I need to know?
A booking deposit of £35 must be paid at time of booking, which is refundable at time of viewing or if cancelled within three days prior to your session
Please note, deposits will be lost if you do not show up for your appointment unless cancelled or rearranged within three days of the booking
A P&P charge will be payable to cover Recorded Delivery of your print(s) if you choose to have them posted
Locations are subject to frequent change without prior notice
Images can take 6–8 weeks to arrive depending on the location, they are not provided on the day
This voucher may not be used in conjunction with any other offer or promotion
Please kindly note that you must inform the supplier upon booking that your experience includes a £50 voucher
Each session will last approx. 1–2 hours, including viewing time
Please note locations are subject to frequent change without prior notice
Only one voucher per child may be used within a 12-month period
Under 21s must be accompanied by a parent or legal guardian
All dates are subject to availability
Locations
This experience is available at 69 locations
Already got this voucher?
Customer Reviews
3 out of 5 (based on 8 reviews)
3 out of 8 (38%) reviewers would recommend this product to a friend.
Birthday gift
17 December 2018
Easy to claim, looking forward to the experience
Lu
Would you recommend this product to a friend?
Yes
Cheap voucher, expensive finished product
09 November 2018
Bought this voucher to cherish those moments of our daughter growing up. The voucher itself is well priced, however the location was in a self storage warehouse style venue, it was quite cold and the gentleman who did the shoot wasn't very forth coming with ideas / positions during the experience. The final pricing for pictures seems extortionate, good job you get one print with the voucher!
Response from Buyagift
By
Jacqueline
, Customer Services, 18 Jan 2019
Hi there, Thank you for your feedback. I am very sorry to hear you did not enjoy your experience. I have passed your comments to our events team to discuss with the experience provider to ensure they are aware of your comments and improvements can be made. Thank you for taking the time to leave your feedback.
Daddy 1
Would you recommend this product to a friend?
No
hidden costs
14 October 2014
I was gifted my first year in photos after my third baby and thought it was a great idea. booked my photo shoot very easily and had no problems with he buy a gift booking service. It was explained that I needed to pay a deposit to hold the session which would be refunded on viewing my photos. the shoot went very well, however it became apparent after all the lovely photos had been taken just how expensive the photos would be if I wanted to purchase any additional ones. (which I am fully aware is optional) on viewing the photos I was very pleased with the images he had captured of my child however was reluctant to purchase any additional as they were so expensive. which is a shame as all the effort that was made on both parts really went to waste as I was prepared to buy additional images. I also had to chase my deposit as they assumed that they would use this as credit against any purchases I made. I am split on this whole experience as the images were great but the cost implications were extreme.
Response from Buyagift
By
Laura
, Customer Services, 29 Feb 2016
Hi, Thank you for your review! I am very pleased to hear that you found the booking process easy and liked the photos that were taken during your shoot. The prices for additional photo's are set by the individual studio's, however they do aim to keep their prices as competitive as possible. I have forwarded your comments across to the suppliers for them to review as well as logging them on my system. These will then be flagged when we review the experiences that we offer as well as the suppliers we work with. Once again I am very sorry for the disappointment caused to you, but thanks again for letting us have your feedback, we really do appreciate it.
yummy mummy
Would you recommend this product to a friend?
No
Not Good
21 February 2013
The photographers seem fine until they think you might only want to leave with the photos included in the package. This was a gift from a relative and unfortunately the studio left us feeling sorry we'd received it. In principle it's a great idea but the reality is that you're loved ones will have to deal with salespeople on the other end of the experience and it will be pot luck what type of treatment they get. We're now only two photo shoots in and won't be going for a third - what a shame.
Response from Buyagift
By
Tania
, Customer Services, 29 Feb 2016
Hi, Thanks for submitting your review. A variety of different photographs are taken for every shoot, therefore the studio will always make customers aware of packages available so they can purchase more prints. These purchases however are completely optional and you are under no obligation to purchase anything extra. I sincerely apologise if this affected your experience in any way, I hope this helps to explain.
Reilly Studios
Would you recommend this product to a friend?
No
Let down
15 November 2012
I was really looking forward to the first photoshoot with our baby but was unfortunately disappointed by the experience. The photoshoot was very rushed (no more than 5 minutes) so we didn't get any decent photos and in my opinion the photographer was quite rude (calling my partner a twit for not placing our son in the right position!#. After the session we viewed the photos taken and felt pressured into spending money. The prices were extremelly over the top #one print was £80!) so we will unfortunately not be going back for the 2 other sessions which is such a shame as I had really looked forward to the shoot
Response from Buyagift
By
Laura
, Customer Services, 29 Feb 2016
Hi, Thank you for submitting your review to our website. I am very sorry to hear that you have been left feeling disappointed with your experience. I have emailed you in relation to this. I am looking forward to hearing from you and being able to assist you further.
MummyOfOne
Would you recommend this product to a friend?
No
Dissapointment
30 August 2012
A friend bought me a voucher for my baby's birth present, it was a lovely idea however the location i booked was quite far from my home and multiple visits are required to the studio for consultation, shoot and review x 3 shoots. So far we've only had the first shoot, the photos were nice however the studio were very pushy with sales and need a decision there and then and charge for the product up front which are very expensive. I felt as though I would have been thrown out if I said i was only after the free prints that had been bought for us. I dont think i will return for the second shoot and doubt i will receive my deposit back nor my chosen print.
Response from Buyagift
By
Tania
, Customer Services, 29 Feb 2016
Hi, Thanks for submitting your review. I am so sorry to hear about the problems you have experienced, I have contacted you today via email to help resolve the issue.
Munchkin
Would you recommend this product to a friend?
No
Memories forever
17 December 2011
I have brought so many of these gifts for my friends and their babies. I am absolutely chuffed with the response and the final products i have seen. The photographers have been great with the little 1s and the pictures are out of this world. The 1 picture is to perfect to be real. The studios have been very positive and have invited parents and grandparents to become invovled in pics 2. OBV this is more money for them but these memories are evr lasting. THANK U BUY A GIFT
Stace
Would you recommend this product to a friend?
Yes
I took my daughter Emily for her first photo shoot a few weeks ago aged 4 months. Emily seemed to enjoy the photo shoot and the photographer interacted well with her in order to get lots of smiles and good shots. We liked the pictures so much that we bought the copyright CD as well as photo packages and frames. We are looking forward to the other two shoots booked at 8 months and 12 months.
Julie Honeyman
Would you recommend this product to a friend?
Yes
My First Year Photoshoot Package with A £50 off voucher – UK Wide